St. Joseph Marello Catholic Church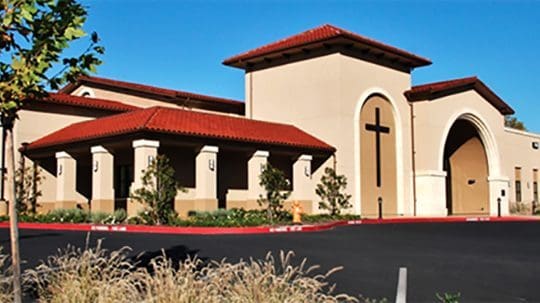 Campaign Purpose
With the growth in new parishioners and ministries, St. Joseph Marello was running out of space. They especially didn't have sufficient space for their three major parish goals of formation, social activity and community outreach.
They also needed to reduce their parish debt. To build their current church facility, they had borrowed money from the diocese. That $2,600,000 loan had to be reduced by $1,700,000 over the next four years based on their diocesan loan agreement.
In partnership with Walsh & Associates, the church embarked on a new building and debt-reduction campaign. Included in the plan was the parish's support for a major diocesan capital campaign. The parishioners of St. Joseph Marello offered overwhelming support of the church's Living Our Faith, Fulfilling Our Promise campaign and exceeded their goal. Their need for more space would be met by building a new Ministry Center with flexible space for social events and classrooms. Funds also would be used to reduce debt and pay for their portion of the diocesan campaign.
Testimonials
"We built and dedicated our church in 2011. Now four years later we are preparing to expand the parish with our second building, the new Ministry Center. The assistance and guidance from Walsh & Associates in both campaigns were an important component in making this possible. Thank you!"
– Bob Porter, Communications Chair
Helping Churches Reach New Heights in their Capital Campaigns
Our mission is to be great stewards, to live up to the Parable of Talents and to bring out the best in those we serve. Our consistent and proven-to-be-successful approach to directing church capital campaigns helps assure this. We just work with churches, only do capital campaigns and ground them in prayer, scripture and sound stewardship teachings. Then we combine this with practical, proven-to-be-most-productive operating methods. This not only assures you of getting the best results and best return on your capital campaign investment financially, but also, that your church will grow spiritually and in community and will be more equipped and excited than ever about doing God's will through the works of your church.
For More Information & Our Free Success Guide
Please send me your free downloadable guide.