St Bernard's Catholic Church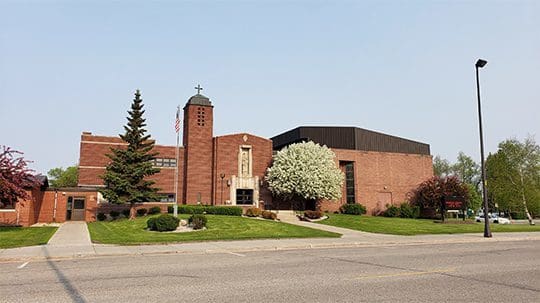 Campaign Purpose
Established in 1896, St. Bernard's built their church at its current location in 1948 and expanded and built a beautiful worship space in 1988. Looking towards the future, the Thief River Falls area is projected to grow by 1000 new jobs. St. Bernard's Catholic Church and School wanted to be ready to accept those employees and their families as potential new members of their church and school students. They wanted their church and school to be an attractive, accessible, and safe faith community for everyone.
Walsh & Associates worked with church leadership on a Feasibility & Planning Study and then capital campaign. Their plans were for two phases of expansion and building. Phase I would build a new ground level entrance, Adoration Chapel, and additional church restrooms. And new, consolidated, more centralized, and ample church and school staff offices. Phase II will include building a new multi-purpose fellowship space. This will include a kitchen, other support spaces, and more classrooms for the youngest students. St. Bernard's is Building campaign received overwhelming member support. They exceeded their goal and raised over four times annual giving.
Testimonials
"The video was excellent – really helped people to understand the project. I enjoyed working with your consultant."
– Fr. Rick Lambert, Pastor
"Our campaign director was great to work with and put in a lot of hard work to keep us organized."
– Misty Mehrkens, Communications Chair
"Walsh did a wonderful job!"
– Laura Brickson, Creative Giving Chair
Helping Churches Reach New Heights in their Capital Campaigns
Our mission is to be great stewards, to live up to the Parable of Talents and to bring out the best in those we serve. Our consistent and proven-to-be-successful approach to directing church capital campaigns helps assure this. We just work with churches, only do capital campaigns and ground them in prayer, scripture and sound stewardship teachings. Then we combine this with practical, proven-to-be-most-productive operating methods. This not only assures you of getting the best results and best return on your capital campaign investment financially, but also, that your church will grow spiritually and in community and will be more equipped and excited than ever about doing God's will through the works of your church.
For More Information & Our Free Success Guide
Please send me your free downloadable guide.